What's the truth about Melania and Donald Trump's marriage? For the couple, first came love, then came marriage, then came an unexpected presidency. But being the nation's most-watched couple has not been easy for the Trumps; their union had been criticized because of their 24-year age gap and Donald's track record of divorce and alleged sex scandals.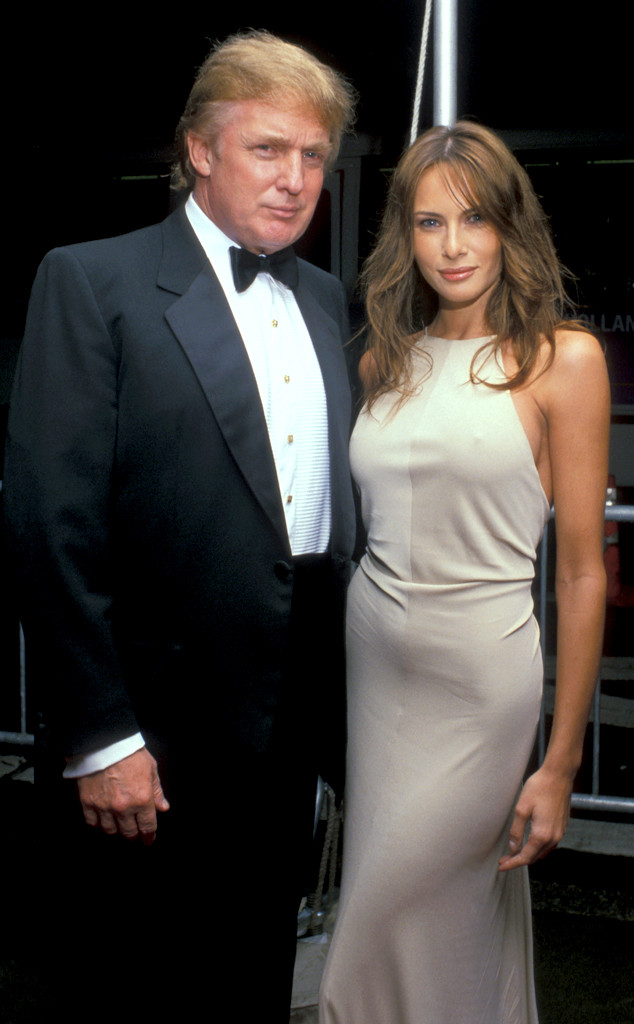 Donald and Melania's love story began in New York, where the billionaire businessman met the Slovenian model in a nightclub (via Vanity Fair). Although Donald is known for his gregarious nature and Melania is considered shy, the pair shared an undeniable chemistry from the start (via ABC News). Five years after their fateful first encounter, the pair said "I do," and a year later, they expanded their family with the birth of Donald Trump's youngest son, Barron Trump.
Donald and Melania's relationship was put to the test during Donald's run for presidency, as allegations emerged that he acted inappropriately with other women. Ever the faithful wife, Melania dismissed the accusations and stood by her husband. However, there's still speculation that they have a loveless relationship and may be headed toward divorce (via Newsweek). Here's the truth about Melania and Donald Trump's marriage.
Donald first laid eyes on Melania Trump.
She undergone a stunning transformation — in 1998 at the Kit Kat Club in New York City, after being introduced by an Italian businessman. "It was a great chemistry and energy, something was there right away," Melania revealed on Larry King Live. But in an interview with the New York Post, Melania's friend Edit Molnar said that Donald was there with another woman, so Melania didn't entertain his advances.
But The Donald was smitten. "I'd seen her before, on the runways and things, but her beauty utterly amazed me," he told Tatler. Even though his playboy friends told him not to waste his time because they'd already tried to court her, he persisted and asked for Melania's number. "But I didn't give it to him,' Melania recalled, "because I knew who he was and I guess… he had all these ladies, so I want to see what kind of number he will give to me."
Although she was skeptical, Donald didn't give her his business line, but his personal digits. She called him a few days later and the rest is history. 
Melania and Donald Trump don't sleep in the same bedroom.
To say that Donald and Melania Trump give each other space is quite the understatement. In fact, in the book Fire and Fury: Inside the Trump White House, author Michael Wolff revealed that Melania and Donald Trump don't share a bed. He also explained that Donald has a habit of locking his wife out at night so he can indulge in cheeseburgers while watching television.
Former housekeepers for the couple confirmed this separation to journalist Mary Jordan for her book, The Art of Her Deal: The Untold Story of Melania Trump. The women worked at Donald's New Jersey golf course, and affirmed that the president's residence was on the second floor, while Melania and Barron Trump slept in separate rooms on the same floor (via Meaww). "I never saw them like a normal family, sitting together at a table, eating together, talking," one former employee told Jordan. "They spend time in the same place but they don't interact."
However, these arrangements don't necessarily mean they are estranged. In an interview with Inside Edition, Jordan said, "By all accounts they do have a connection, they do have a relationship."